DENTAL CROWNS & BRIDGES - Baton Rouge, LA
We'll Put Your Smile Back Together
If your teeth are broken or weakened from decay or other trauma, you may have trouble eating certain foods and be reluctant to smile. Dental crowns and dental bridges can restore your dental health and happiness. An acclaimed cosmetic dentist, Dr. John Barksdale uses both to restore beauty and strength to your smile, making sure each perfectly complements your existing teeth. This attention to detail has helped make him one of only 350 dentists in the world accredited by the American Academy of Cosmetic Dentistry and is one of ten in the state of Louisiana. For dental crowns in Baton Rouge, LA, come to Barksdale Dentistry.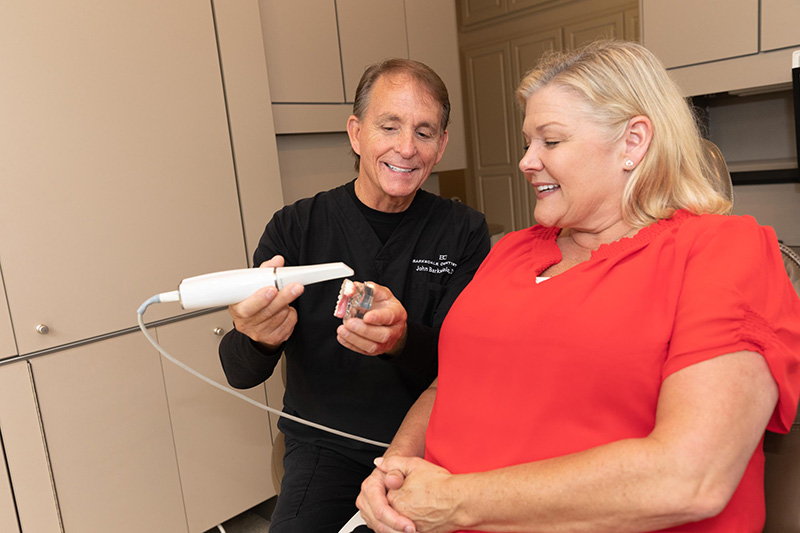 Cracked or decayed teeth don't always need to be removed. You may be able to get back both the appearance and function of those teeth with dental crowns (or "caps"). Crowns are made to look and feel like real teeth and are customized to fit you comfortably. Dr. Barksdale can remove the natural crown and put a porcelain, artificial crown in its place. This is especially important if the original porcelain crown is completely gone, because the neighboring teeth can begin to shift. Dr. Barksdale often places dental crowns in conjunction with other services.
How Dr. Barksdale uses dental crowns:
Dental bridges are rows of at least three crowns that Dr. Barksdale uses to fill in gaps of one or more adjacent teeth. The crowns at the end of each row are either cemented to existing teeth or attached to dental implants for stability. Like crowns, bridges restore the look and function of the missing teeth and keep the remaining teeth from shifting out of place.
How Dr. Barksdale uses dental Bridges:
Our Patients tell the story best
See Your Smile Whole Again!
Get in Touch
Smile Design Preview
Get in Touch
Let's discuss what we can do for you and your family.
Smile Design Preview